DUO MANTAR
Duo Mantar is comprised of two virtuosos, American classical guitarist, Adam Levin, and Israeli Mandolinist, Jacob Reuven. They are described as "visceral and imaginative" and "transcendental and exuberant," respectively. This novel pairing is rare in the chamber music world, however, the two plucked instruments are complimentary and are natural extensions of one another. Levin and Reuven began playing together in 2017 and share a passion for Israeli Music, Hebrew, and Jewish songs. Both are committed to expanding the repertoire available for mandolin and guitar by actively commissioning today's most sought after composers. In June 2021, they released Music from the Promised Land on the Naxos Label. It charted number one on the Billboard Traditional Classical Albums Chart. They have toured Israel, Spain, and across the United States. Upcoming projects include the commission, study, premiere, and recording of several double concerti by some of Israel's most respected composers: Avner Dorman, Ziv Cojocaru, and Ittai Rosenbaum. They will also tour with Levin's guitar trio, The Great Necks, and perform never-done-before arrangements of Beethoven's infamous violin concerto as well as Bach's double violin concerto with two mandolins. In February 2023, they will record and release their second album of Avner Dorman's concerti for mandolin, guitar, and mandolin and guitar. Jacob performs on a mandolin built by Israeli luthier, Arik Kerman, and Adam Levin performs on guitars by American luthier, Stephan Connor and French builder, Dominique Field.
Projects/Projects/Projects/Projects/
Projects/Projects/Projects/Projects/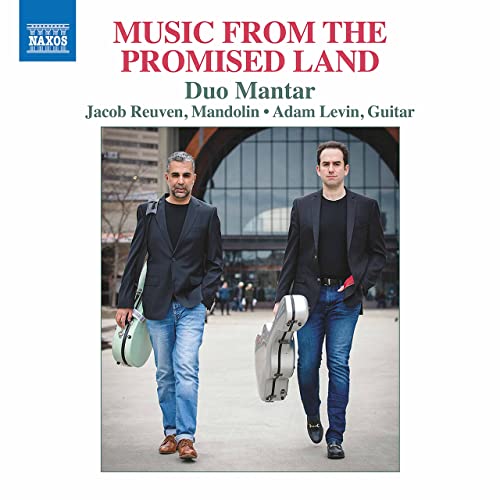 Music from the Promised Land (Naxos Label)
Duo Mantar's album titled "Music from the Promised Land" on Naxos Label features new Israeli music works (world-premiere recordings) and new arrangements for mandolin and guitar. Comprised of Israeli mandolinist Jacob Reuven and American guitarist Adam Levin, Duo Mantar is […]
CONTACT US
For booking, media inquiries, or just a friendly hello, please write us here.